When driving any Vehicle, safety is Key. Unlike a regular vehicle, a Handicap Accessible Vehicle has some extra precautions necessary to keep a loved one safe and secure. According to the NSC( National Safety Civil) seat belts, when properly used, are the most effective traffic safety device for preventing death or injuries. According to the National Highway Safety Administration, wearing a seat belt can reduce the risk of injuries in a vehicle crash by 50%. Those numbers are huge so here are some handicap safety features to keep you and your loved ones safe.
-Vests-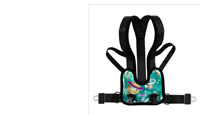 * Using Vests to keep the handicap person tightly secured to their chair is important. There are many different styles and brands of vests such as the Easy On Harness Vest or the BrunoVest, but one of the most common one we use here at Agor enterprises is the Q-Straint Vest. Created with the assistance of Occupational and Physical therapists, school bus drivers, supervisors, and experts in special needs transportation, these were designed specifically for the needs of the handicap. They are universal and one size fits all. There are for weight 20Lbs and up, the adjustable straps make it comfortable for just about anyone.
-Tie down System-
*The Tie down System was a great safety feature for your wheelchair or even your scooter. Because there is such a wide variety of wheelchairs and scooters, the tie down system was created to adjust to just about all of them. The most common one we use at Agor Enterprises for our rentals and our sold vehicles would be the Q Straint Tie down System. The Tie down System is great because it allows your handicap passenger to stay in the comfort of his or her own wheel chair and stay safe without any strain.
If you are new to the Tie Down system there are some great benefits you should consider.
-The Q-Sraint system has Dual tightening knobs, to keep you extra safe.
-A foot lever with an easy release which eliminates the stress of bending down.
-They are created with a J hook, which reduces the twisting of belts and ensures proper securment.
-They are constructed from Hardened steel and then coated with Zink for maximum collision resistance.
-They are compact and easily accessible, with a universal design it can accommodate almost any wheelchair or scooter.
-They are interchangeable, eliminating confusion.
-last but not least they are automatic, tightening on their own to keep the wheelchair as secure as possible.
These are just some of the many ways to keep you and your Handicap love one safe. If you have any questions feel free to call and ask our office here at Agor Enterprises, we would love to help guide you!